Yippee we're homeowners!! We couldn't be more excited at this time of our lives. We've been on such a fun journey – honestly it was a dream – and we're so excited to share it with you. We were lucky enough to come upon an opportunity to semi-custom build from a floor plan we had previously walked through. We agreed to put some earnest money down so that we'd have the chance to pick out flooring, paint, cabinets, lighting, and so much more. It was our dream come true and we loved designing the house, together truly making it our home. We stalked our house often and wanted to document our journey and took many photos. We're currently sitting in the family room cuddling up & can't wait to show you the indoors in upcoming blog posts!
——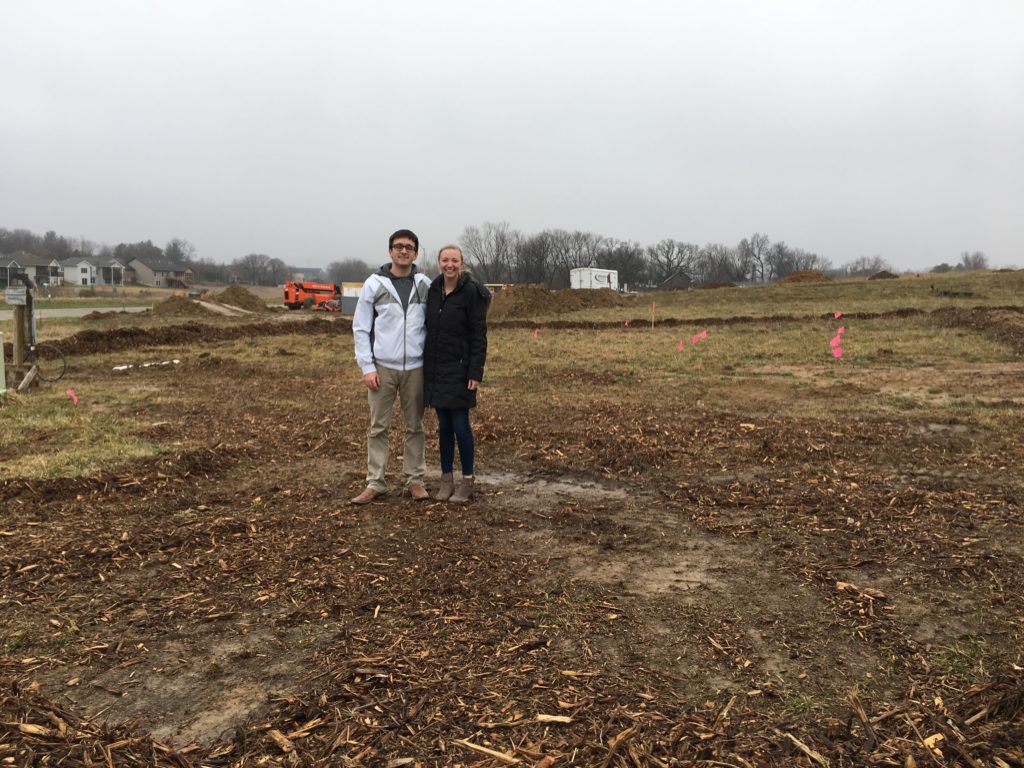 [March 25, 2017]
We had just picked out our lot – before we even broke ground!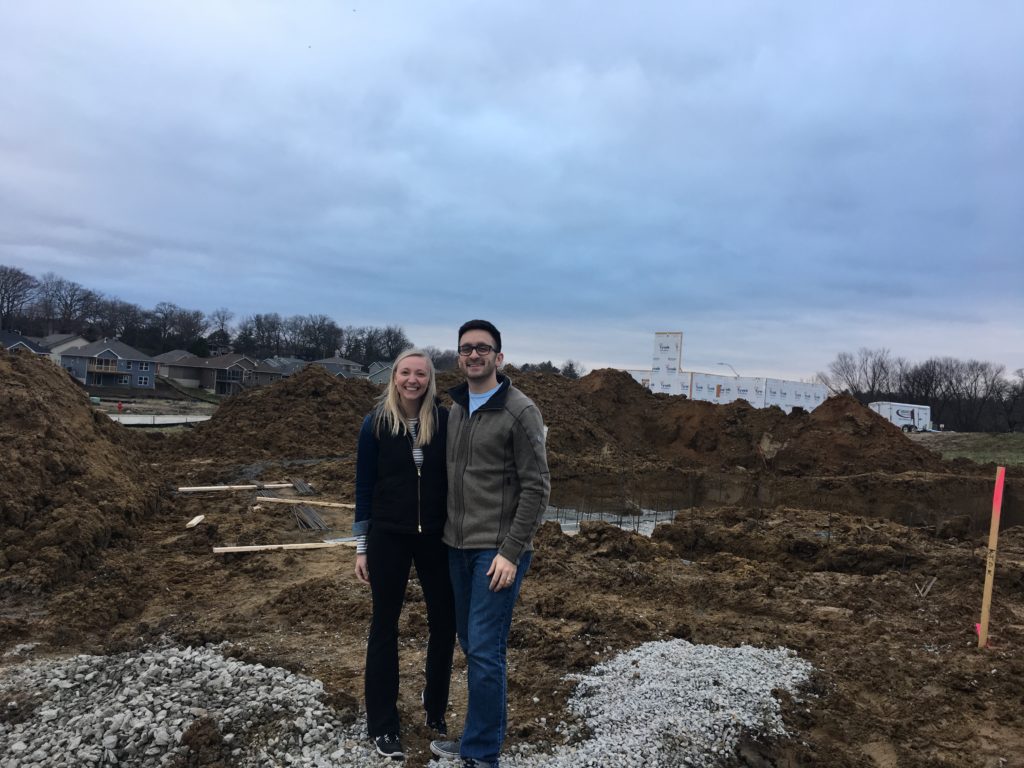 [March 31, 2017]
Our foundation has been poured! It was so neat to see inside our future basement and see how quickly they poured it!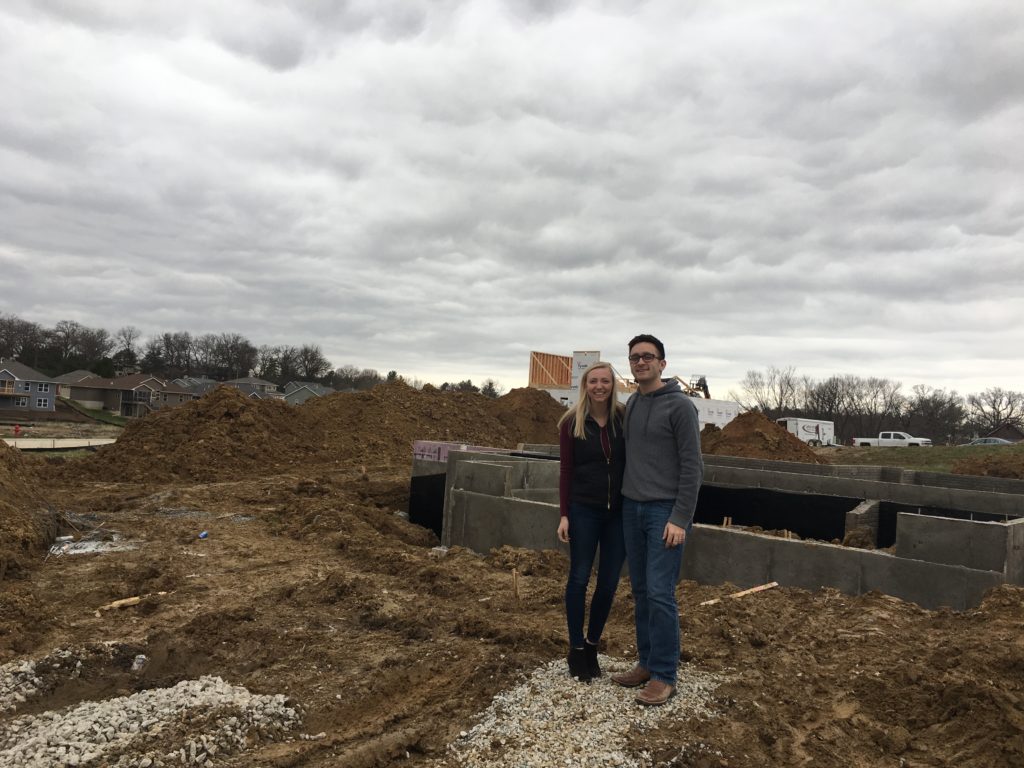 [April 4, 2017]
More layers of our foundation are poured! Weather was still crappy but inside we were so happy to see our little home develop!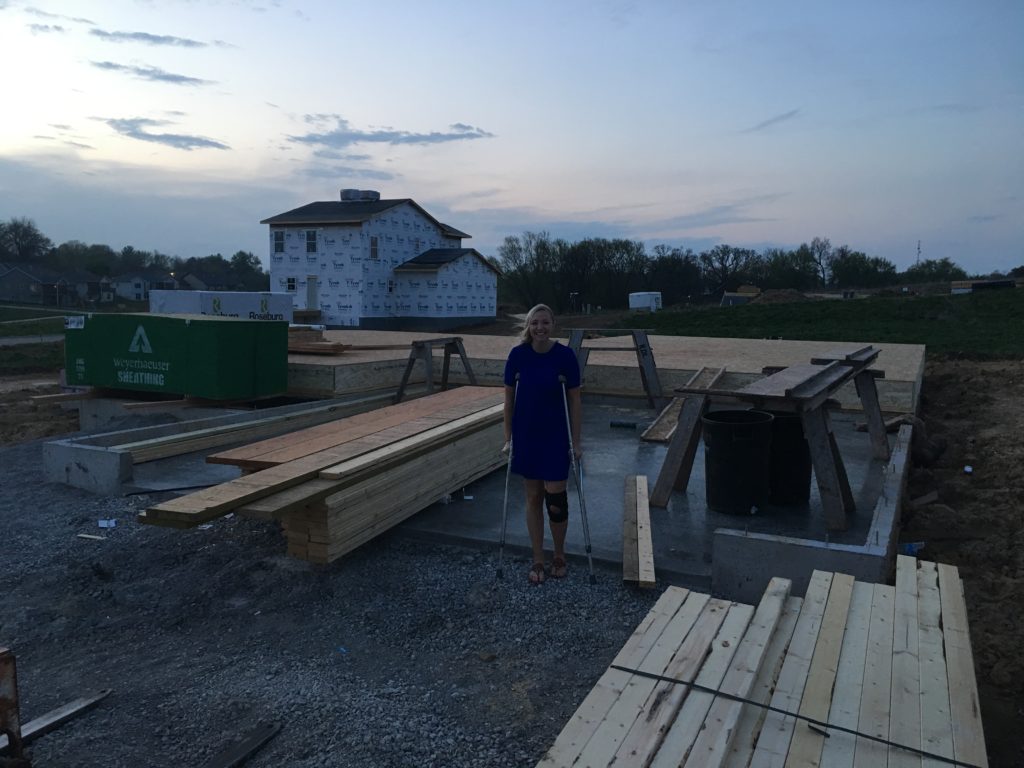 [April 19, 2017]
We lost our photographer and added some crutches. This was one of the weeks I was on crutches after dislocating my kneecap on Easter. We were SO pumped to walk inside our garage and get a feel for what it would be like to pull into everyday! Tony even picked me up so I could crutch around in our future home!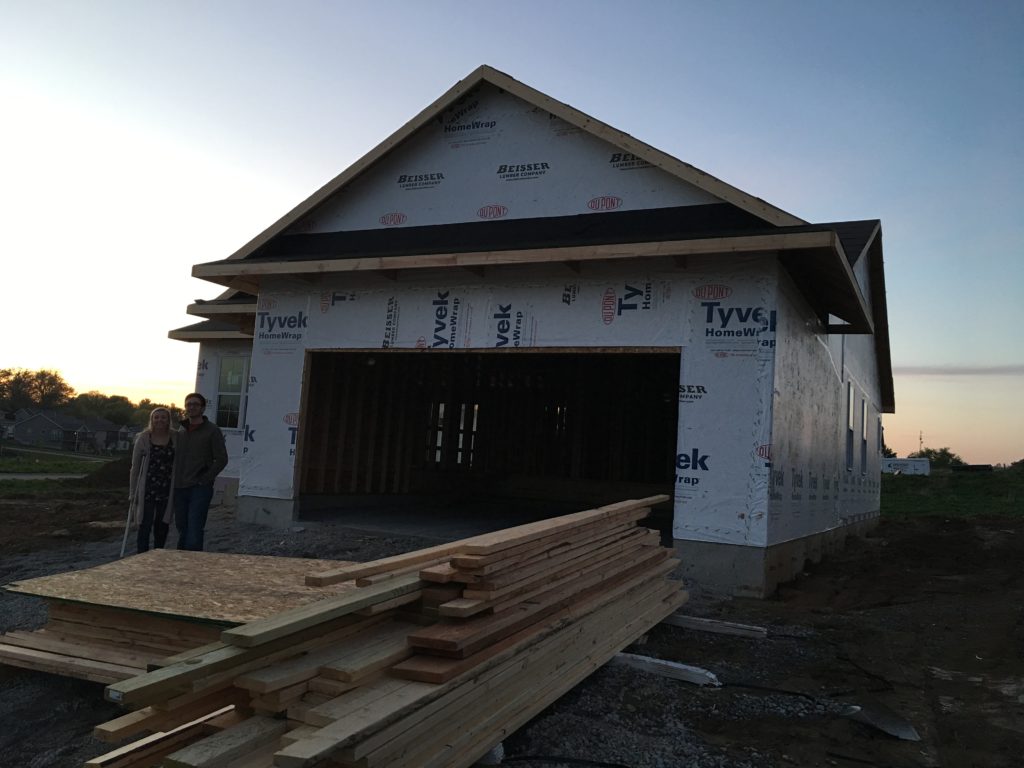 [April 27, 2017]
Its not a great photo but sometimes you have to improvise and use a dumpster as a tripod! We have walls people! This went up in a few days and we literally screamed when we drove down the street and saw it. They are prepping for our screened in porch on the back of the house (hence all the lumber out front)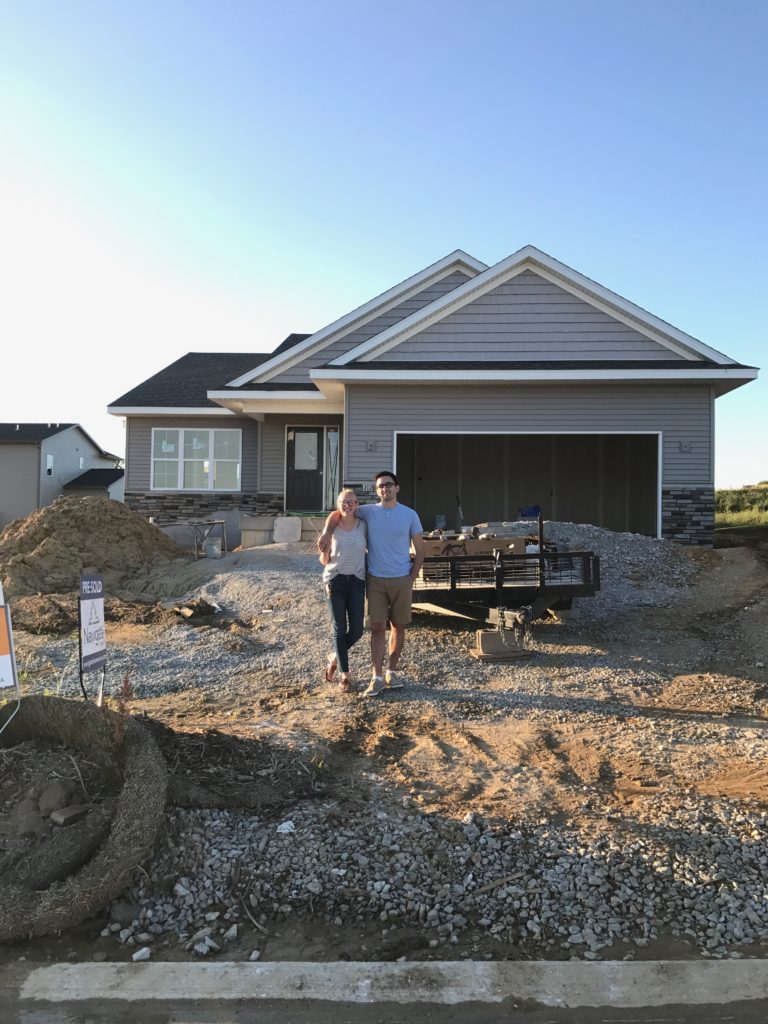 [June 26, 2017]
Jump forward a bit. We missed some photos along the way but now our siding is up & we're in love with the color! We were nervous about matching the stone and siding but it all turned out beautifully! At this point, we are walking to our house from our apartment daily to see what updates have been done!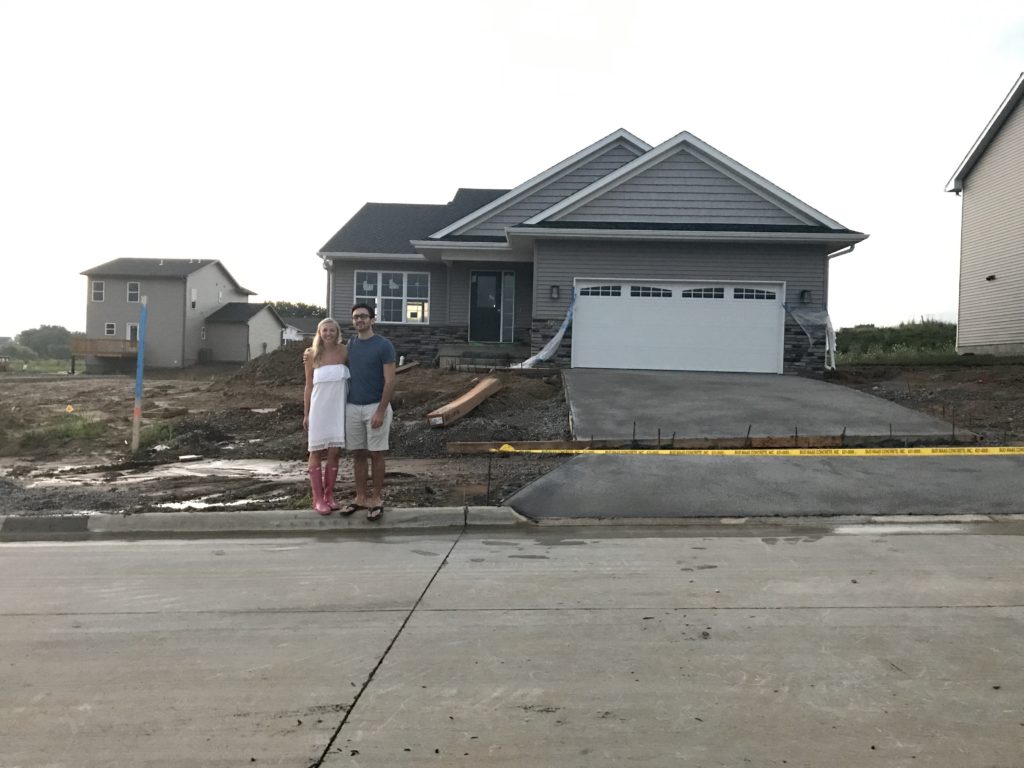 [July 18, 2017]
Happy day! We have our lovely garage door up and the beginnings of our driveway and sidewalk! This was very fun to watch dry over the next few days. We also have the first parts of our outdoor lights. Starting to look like a real house – our house!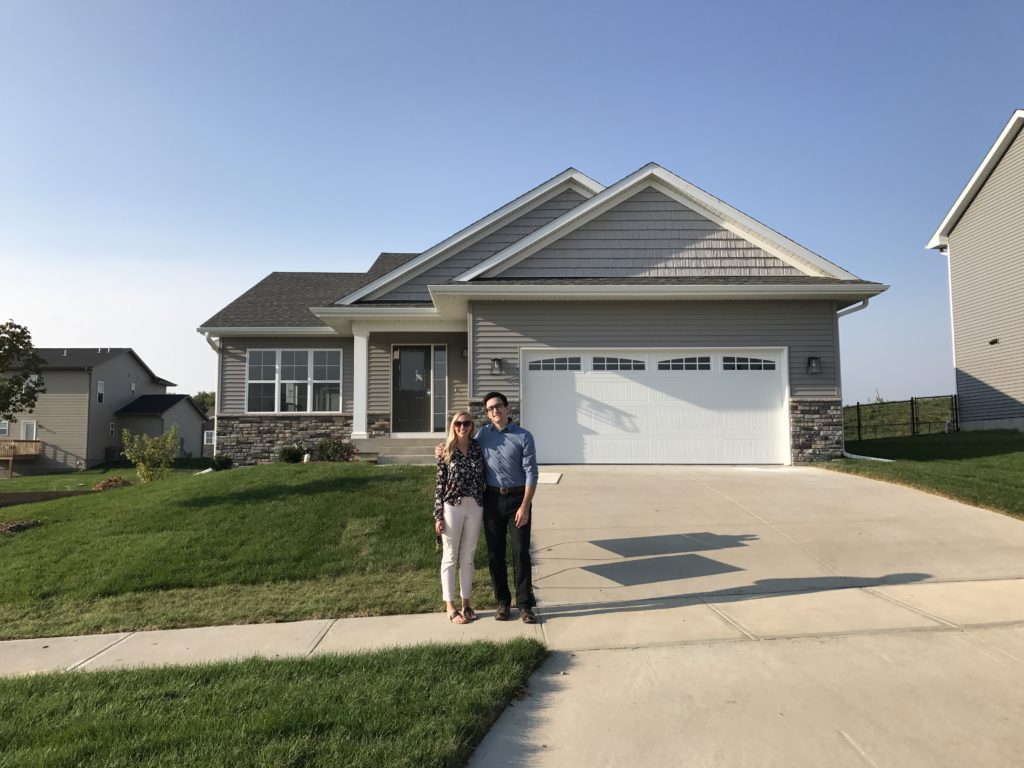 [August 31, 2017]
So close yet so far! Closing date was pushed back (again) but we're pumped to have our sod! Its from the family (ash side) farm and its basically a piece of Tony's childhood "backyard". It sounds silly but it was very exciting for us! Landscaping is in too! We love our little rose bush! It'll be so much fun to add plants and tress to our lot as time goes on & have a little garden of our own.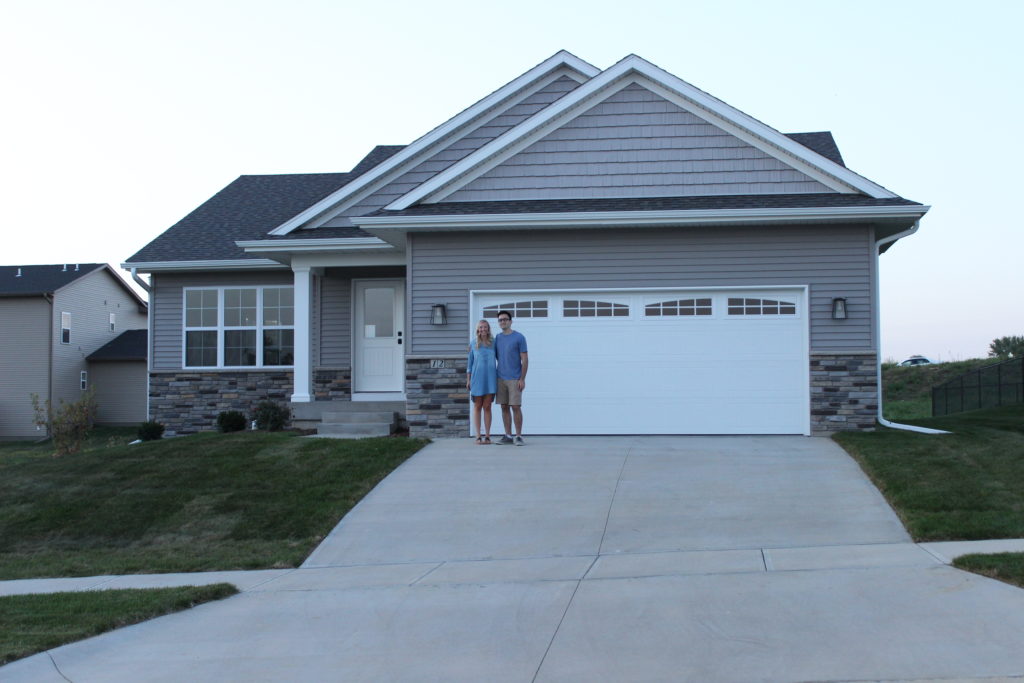 [September 8, 2017]
Closing day! Oh my goodness we are beaming. It was so exciting to get those keys and walk into our house for the first time. We have already installed the new Nest thermostat (curtesy of Tony) and start moving boxes over! We were fully moved in by the end of the next day. We've had boxes delivered pretty much everyday since with goodies being dropped off.
We couldn't be more thankful for have the opportunity to design our first home & to live here for many years to come. We've worked very hard for this & after saving up we were able to have the home of our dreams. There is nothing I love more than decorating and all things pretty – and will share aspects of our home with you along the way. I'd like to do small segments featuring specific rooms. If there is anything specific you'd like to see, let me know down below in the comments!
Stay tuned for a 101 class on buying a house, a Q&A about house buying/building, & many design posts in the future!