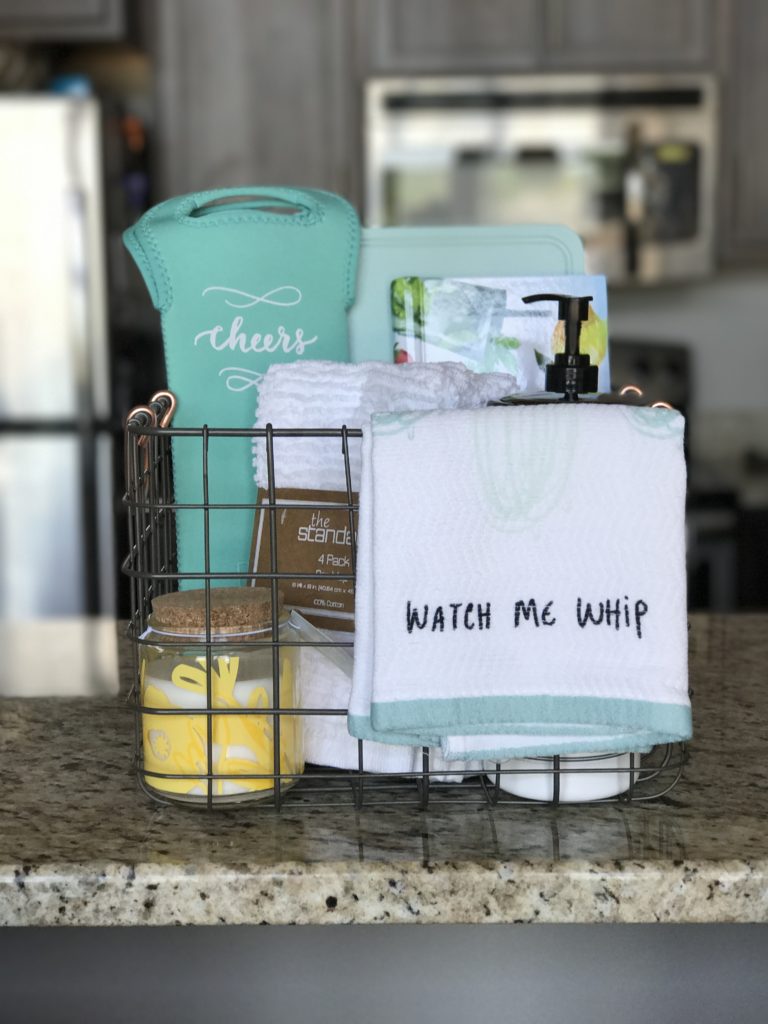 Metal Basket / Dishtowel (similar, similar) / Quartz Cleaning Wipes / Dish Soap / Cocktails Book / White Towels / Candles (similar, favorite)
Is there anything better than finding out your friend and teaching partner is going to be your future neighbor? I don't think so. I think we may have hugged for 10 minutes straight while communicating with many screams and incomplete sentences. We're already scheduling our Sunday nights full of girl chats with wine while the boys watch Game of Thrones! Basically, we're lucky to have such great neighbors. As a couple buying their first home, everything is so exciting! I wanted our new friends to feel welcome and to enjoy this thrilling time in their lives.
As a huge fan of hosting parties and entertaining (proof from an embarrassingly old blog post from 2014), I knew a housewarming gift would be perfect. I brainstormed a few ideas of things that would be perfect for a new homeowner or maybe someone moving into your neighborhood!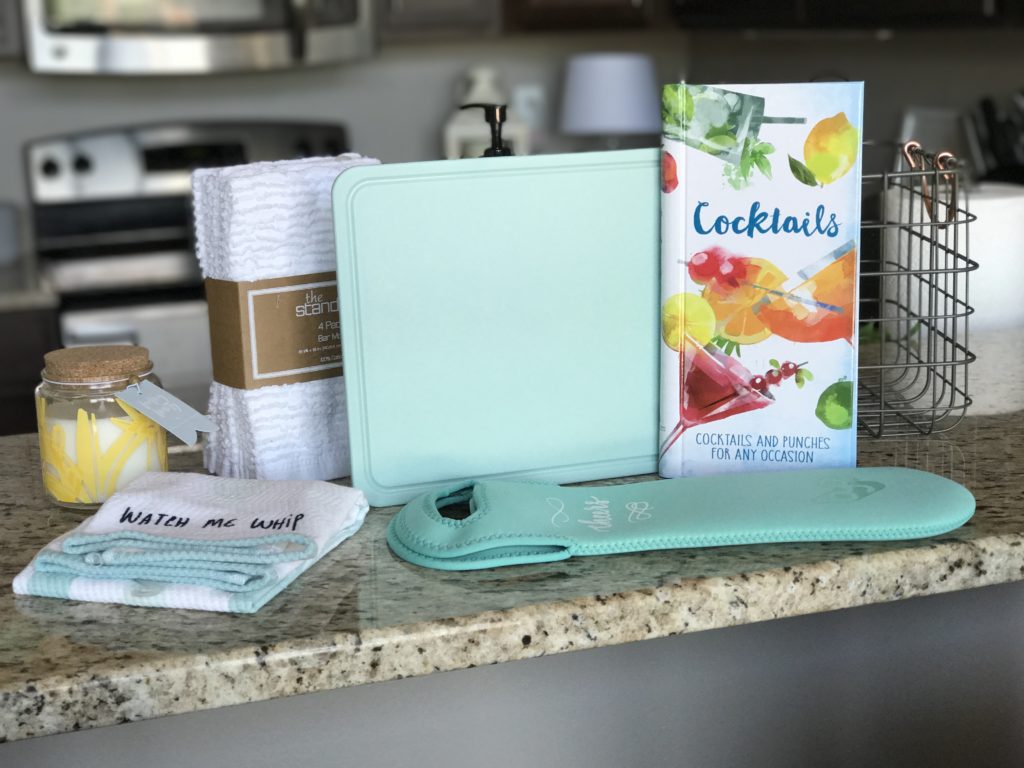 A fun dishtowel: You know this is always something someone will need in their new home & why not get a cute one that is funny and functional?! I couldn't help myself when I saw this one & it fit with her blue accent color in her kitchen. I also am in love with this one & this one.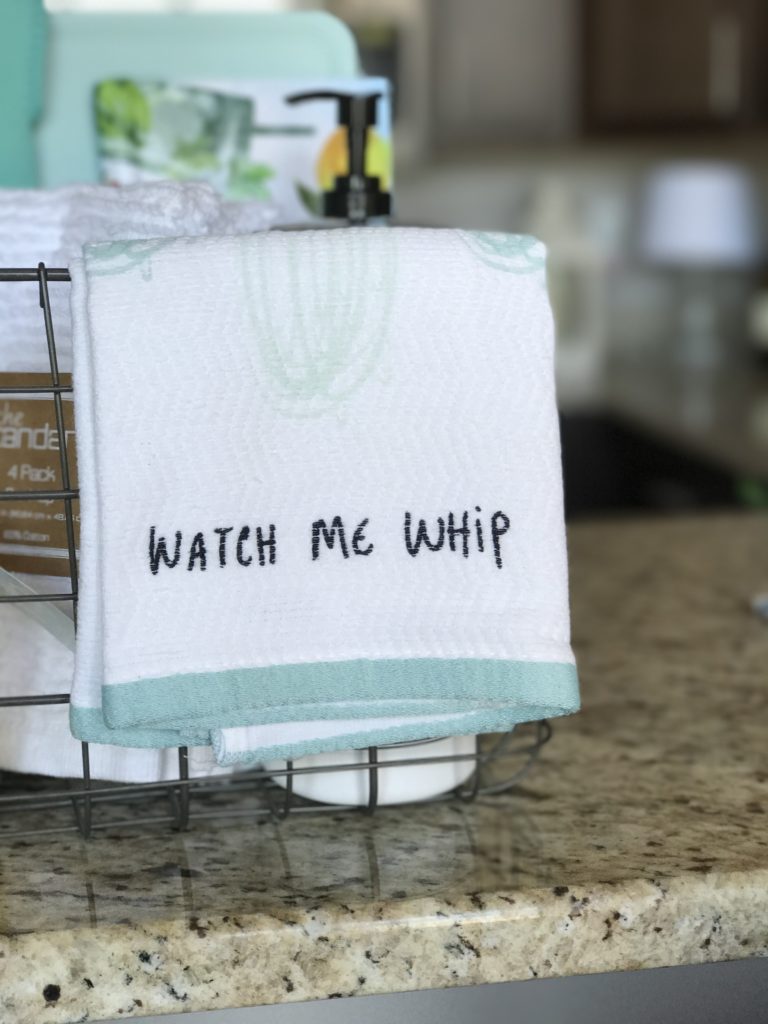 A Book: Normally when in a new place, you're motivated to start cooking more and want to try new things. Its fun to add something new that they can try to really break in their new kitchen. I included a book similar to this, but a cookbook with recipes with yummy meals is always a safe bet.
A Candle: Whether they are moving into a new or old house, a candle to make their house feel like home is a must. It can make a room smell so good while creating a warm feeling that will surely make them smile when they walk in the door. Choose a clean kitchen scent like I did, or a warm cozy scent for the family room.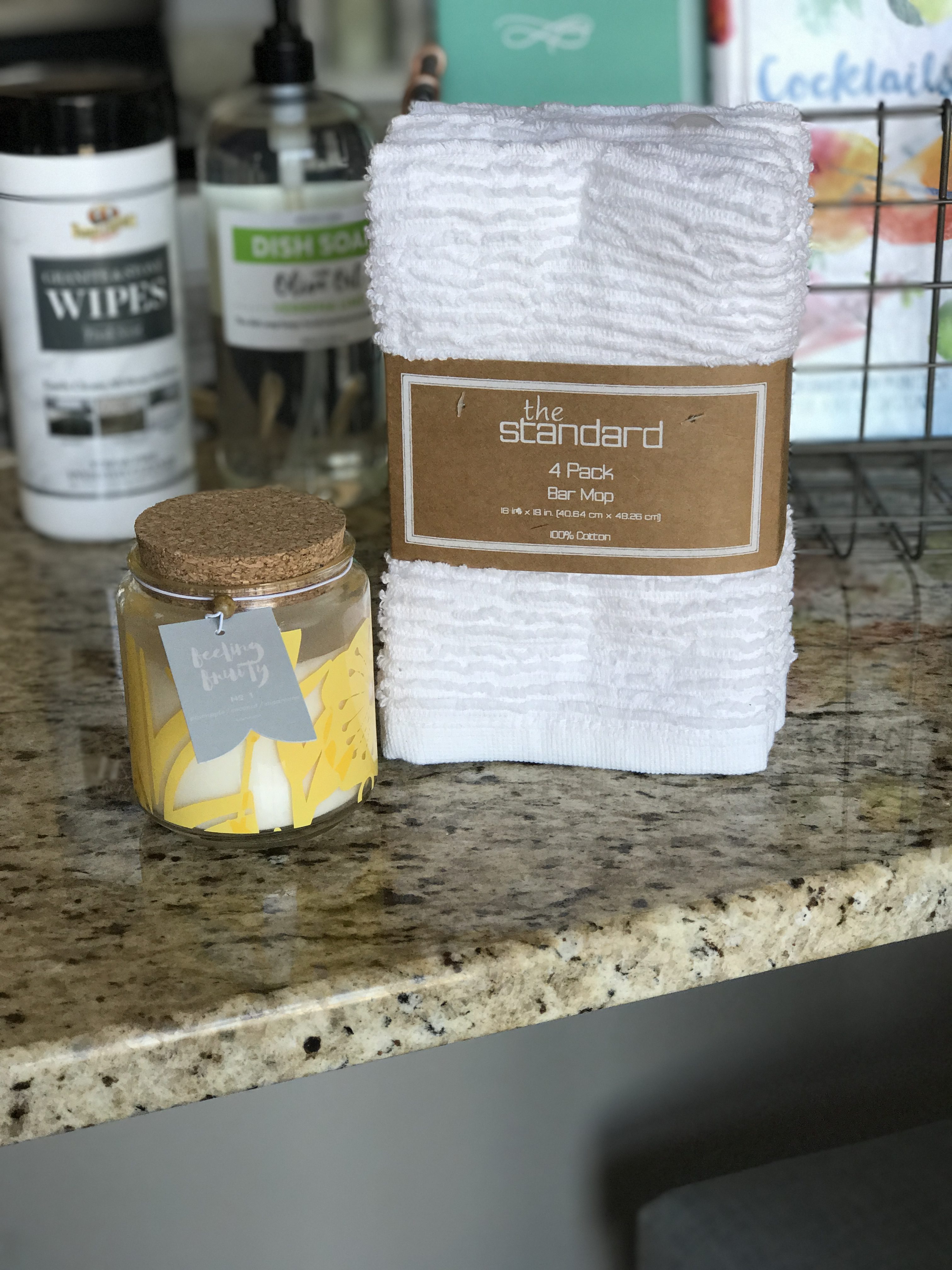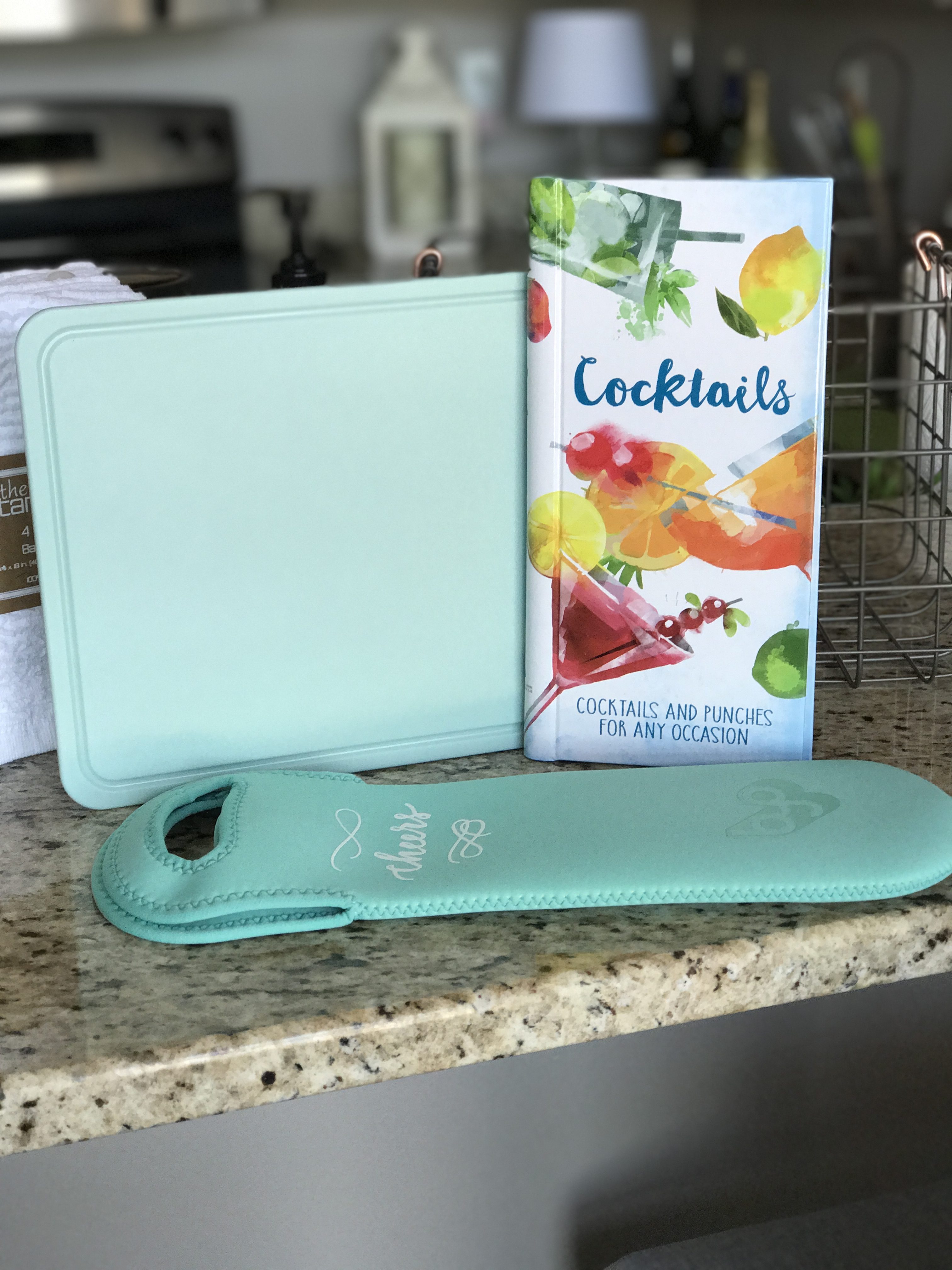 Cute Basket: A cute basket can pull it all together & is functional as well. It allows you to present it in a pretty way while giving your friend a pretty new basket they can use in their laundry room or family room to store some towels or goodies. More modern home? Go with this one  OR this one for a more traditional home.
Cleaning Supplies: I'm not really sure how many paper towels we went through when we moved out. I kept wiping up the counters over and over again until things were finally unpacked and not on the counters. For us, we have to have special cleaner for our quartz countertops and I knew our neighbors did too so I wanted them to be well equipped for their first day in their new home. I included Olive Oil dish soap for their kitchen too which had both gorgeous label & is functional. You can find one similar here.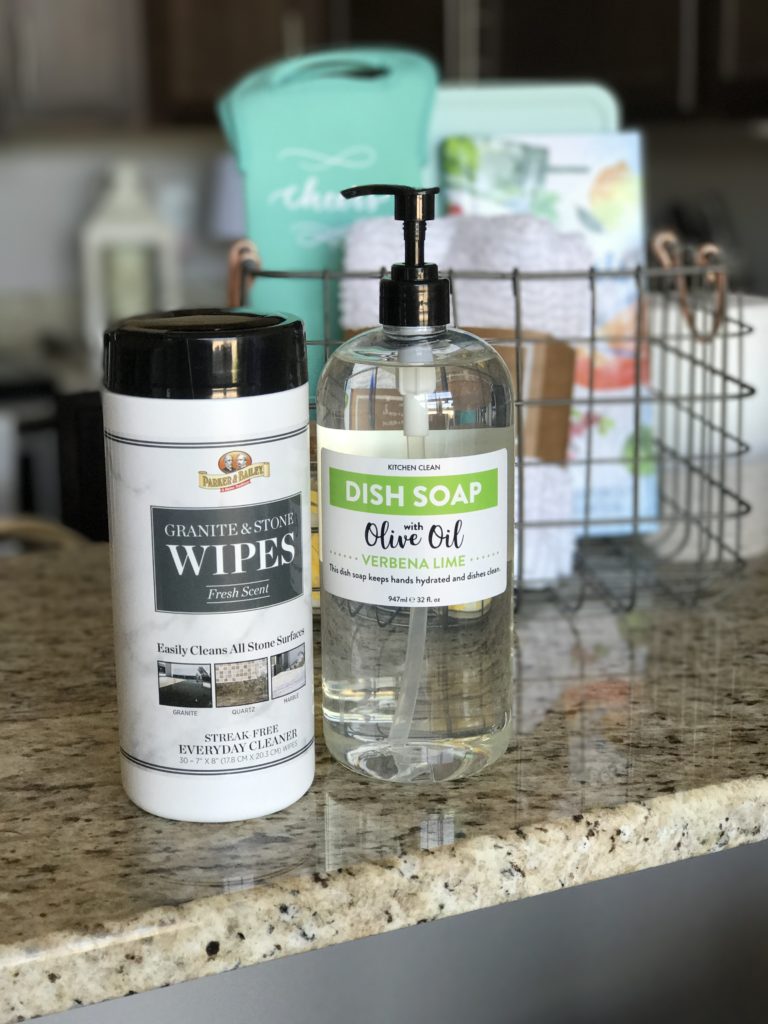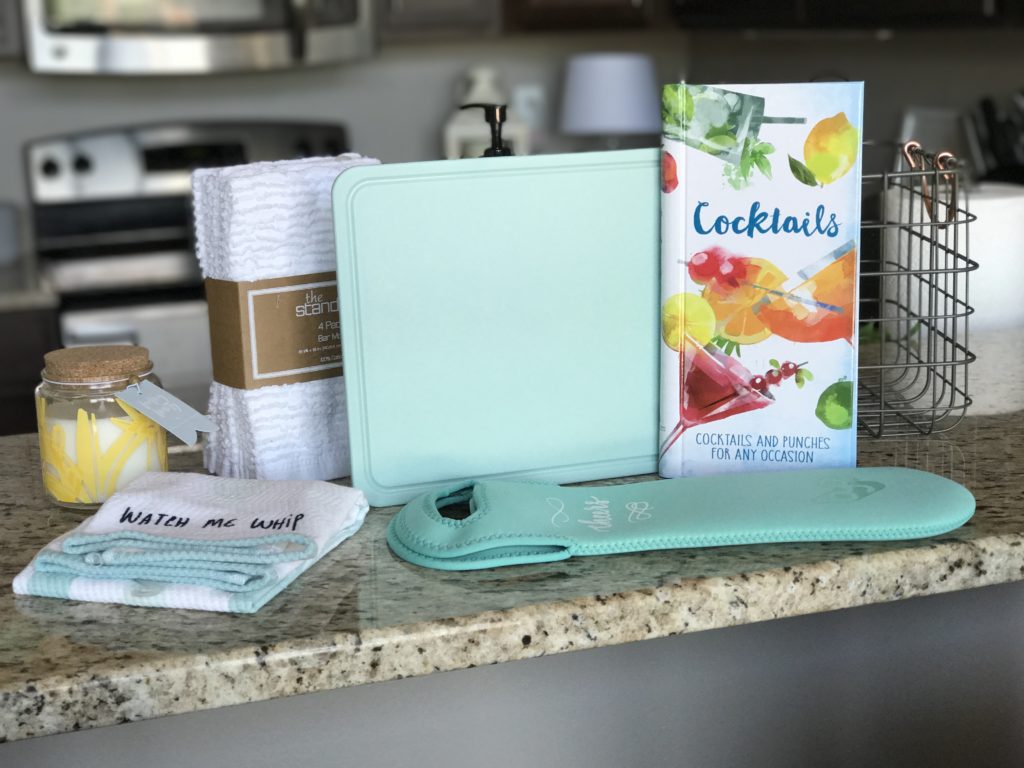 Hope this post inspires you to create a little housewarming gift for someone you care about! Its a great way to celebrate with them at this exciting time. Thanks for stopping by A Dash of Bruck!